Previous Articles
This article was posted on Sunday, 1st June 2014
I'm on the market for a new backpack. My commute to work, whether it's to my office locally or when I'm working in Dublin, is punctuated by frequent saturations from the lovely Irish weather. My current backpack leaks like a sieve, and although my Macbook Air is in a, supposedly, rain proof sleeve, the rest of my stuff (or my Every Day Carry, as it seems to be called) has water stains.
While I can get backpacks in every configuration and price range, it seems that the waterproof angle is the expensive one. I've compiled a few backpacks that I have come across, which I really like, plus a few cheaper alternatives if you don't plan on being out in the rain.
I have tended to gravitate toward military style packs, simply because the colours are more muted and they all have the MOLLE expansion system (those horizontal straps) which allows you to attach more storage to your bag. The storage capacity is about 18-22 litres, which is about what my current pack has.
If money wasn't an option, and I could get one of these imported from the US, I'd have a Mystery Ranch ASAP pack. The design, with a three zip opening, is really clever, allowing you access from the top, but also allow you to access the entire contents of the bag. The lack of smaller compartments, is a slight con, but I love the design of this. At $245 (180 euros as of today) it's expensive.
Although currently unavailable, the FAST Pack Litespeed is a nice pack. At about 21litres, it is a more tall and narrow bag. I like the flap on the front (aka a beaver tail), allowing you to strap rain coats and other clothing to the back of the pack. At $239 (175 euros as of today) it's a decent price.
Of all the packs I looked at, the Rush 12 seems to tick all the boxes. It's the right size, about 22 litres. I can get it from Amazon (another shameless AA link), or eBay shops. It's about £72 (88 euros as of today). I've read a lot of reviews on forums and blog posts, and everyone who has one, is very positive about them. And, it's rainproof! I considered the larger, 34 litre Rush 24, but when I saw photos of it, I realised that it was too big for my needs.
The Rush 12 has a nice 'admin' pocket on the front, which will be useful for all my cables and junk that sits in the bottom of my bag. I've also seen people use the 'hydration' pocket for storing their laptops. Ironic, seeing as I want to keep water off the machine. All in all, a nifty little backpack.
I like the simplicity of these packs- there is some external MOLLE straps but on the lower part of the bag. The one feature I really like is the MOLLE straps on the inside, allowing more customisation inside. At $295 plus shipping (about 216 euros) it's probably beyond my budget.
Cheaper alternatives
I found these on eBay shops, and they seem like fun packs to have. One thing I must stress, is that lack of water proofing seems to a reoccurring negative for these bags. While the nylon will prevent a certain amount of water getting through, a good downpour will totally wreck your stuff, and your day.
US Military Utility Tactical Survival Camping Gear 3 Day Assault MOLLE Backpack
Probably too big for my needs, but I nearly bought it, as I liked the cut of it's jib. I could yet buy it, $37 plus free shipping worldwide, it'd be worth a chance.
MOLLE US Assault Pack Military Patrol Rucksack 20L Black by Mil-Tec
Not a particularly pretty pack, but it's only £17 plus shipping. The Amazon reviews seem to mention the poor build quality quite regularly. I guess that's to be expected.
I'll be sure to post a full review of whatever pack I get, once I've used it for a few weeks.
This article was posted on Monday, 26th May 2014
A few years ago, I partook in the Flickr group The Items We Carry, a fun group where you display the generally mundane items you carry on your person. You can see what I was carrying on the 10th August 2011 below.
Check out that Nokia!
Since then, it seems that the focus on those mundane items has become a thing in itself. At some point the phrase 'Every Day Carry' [sic] (or 'EDC', as the initialism-loving people would say) became widespread, and essentially is used to describe all the crap that we lug around every day.
While I wouldn't get too obsessive with my 'EDC', it is fun to peruse the various different groups on Flickr. I still only carry my wallet, phone and keys on my person, but I also carry a bag of stuff, to and from my work (I am a web designer) every day, including a laptop, associated cables, notebooks, pens, pencils, books, and anything else I have to have with me.
For me, the appeal of the EDC groups is seeing how best to organise a bag full of stuff. My favourite so far has been these Maxpedition pouches- like a hard wearing pencil case, as seen below. I may need to pick one up and get myself organised.
Photo from Flickr by Cole Ewert
So, have you asked yourself- what is your Every Day Carry?
This article was posted on Friday, 9th May 2014
Last year, my brother, Will came to me with the idea of printing tshirts. He works in our family business, which is a design and print company. He had happened upon a new digital technology that produces full colour, screenprint quality tshirt prints, without the setup or the large print quantities associated with screen printing. He thought this could be a great service to offer people- promotional tshirts, high quality, low quantities.
Since 2010, I had done a few rounds of promotional merchandise on supportwebstandards.com, I really enjoyed it, especially producing the actual goods. It was fun. I had toyed with the idea of setting up a site to produce promo merchandise for people, but I didn't have the time or resources to do it. It is more work than one person can handle.
So, Will comes to me and we thought about a site for tshirts, hoodies and other miscellaneous garments. We started with that, but then decided to add Vinyl Stickers to the mix (I had lots of sticker experience with SWS). Then we decided to add some other items and it spiralled from there. We chose BigTree as our company name- it leaves us open to branch into other areas of promotional merchandise.
I worked on the site in any spare time I had, which delayed the launch until a few weeks ago. We've been slowly, but surely, building up our customer base and we're really excited with what is on the horizon. We have more products to introduce, a whole new range of packaging and accessories to add to the site as well as keeping our own merchandise shelves stocked with new products.
Speaking of which, we have sticker sample packs for sale in the shop. If you use the coupon code johnsentme you will only pay postage for the pack (or alternatively, get 1 euro off the total of your order of any of the shop items).
This article was posted on Wednesday, 15th January 2014
As I'm sure everyone knows, there will be a new Star Wars movie, to be released in 2015. I am cautiously optimistic about it- they can't do any worse than the three Star Wars prequels:
"Hold me, like you did by the lake on Naboo; so long ago when there was nothing but our love."
Anyway, JJ Abrams is an interesting choice of director, and I saw today that Darren Gilford has been listed on IMDB as the Production Designer, along with Rick Carter. I think this is a very good thing. I've mentioned Darren Gilford here before, in relation to his design work for Tron Legacy and Oblivion.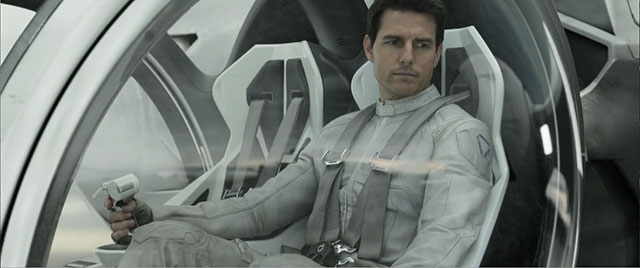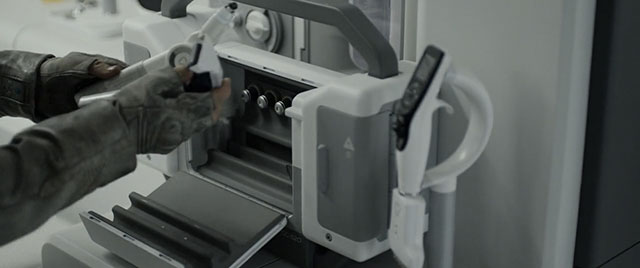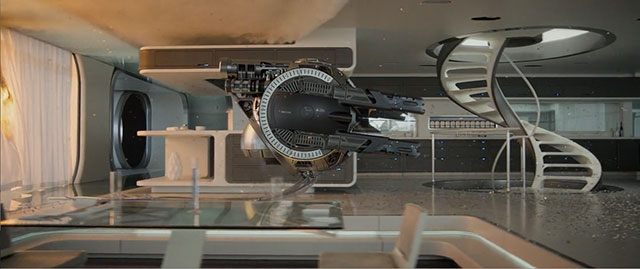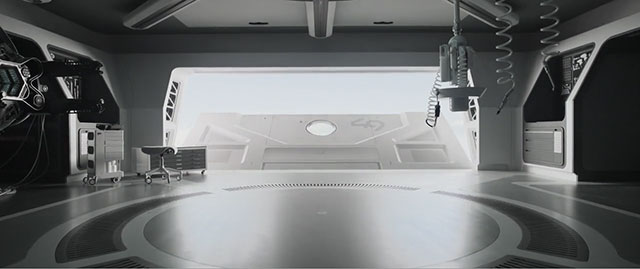 Rick Carter's previous work is stellar and Oscar-winning, whereas Darren Gilford's previous work is, so far, limited to his work on Tron Legacy and Oblivion. However, I think it's obvious that he has a serious talent at designing a very futuristic look and feel, which is also quite practical and functional. More importantly, his work is believable, regardless of the context. I have likened him to designers like Ron Cobb and Syd Mead.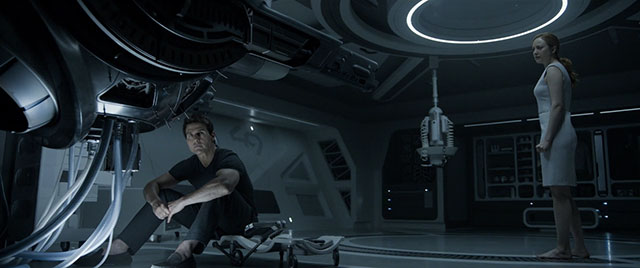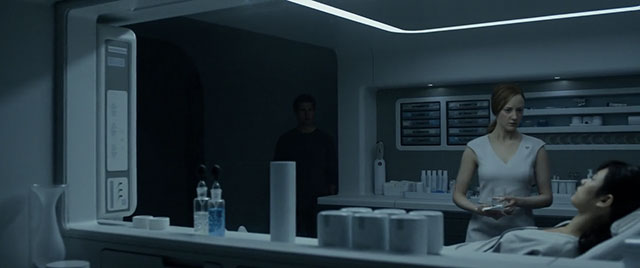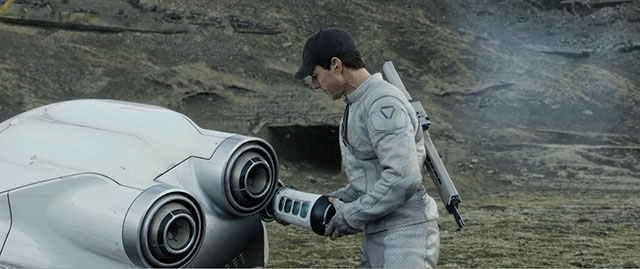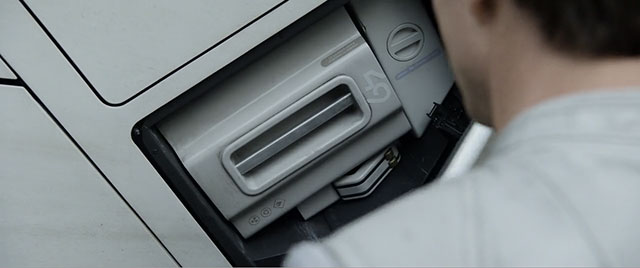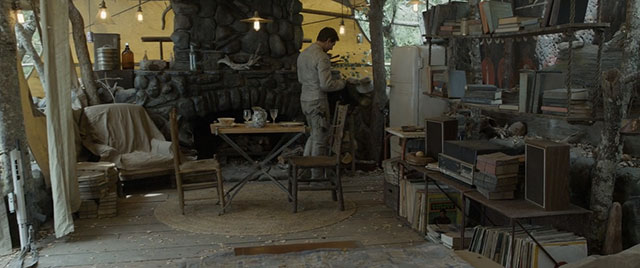 The original Star Wars trilogy had a very tangible feel to it- it was futuristic, but believable. I think Rick Carter and Darren Gilford will do a great job, I think it's going to be a fantastic looking movie. I may even be getting a little excited about the movie.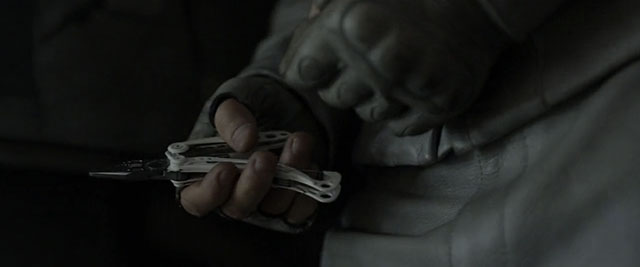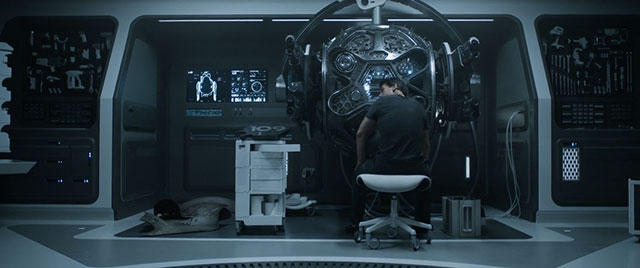 Sidenote- I find it interesting, the number of items in Oblivion, that are contemporary items, that you can get today. The first of the two images above is quite obviously a Leatherman Skeletool, in custom white, and in the second image, there is a white Bieffe Boby Taboret. Good design is timeless.
This article was posted on Wednesday, 2nd October 2013
It's hard to believe that we are into October already. I haven't posted since the end of June. There was one reason- the greatest reason- my son was born on August 8th 2013, and he has been keeping me busy in the evening times.
I'm also working on a few freelance gigs, as well as a new project that is nearly ready to go. It involves t-shirts and stickers and all sorts of other great merchandise. I'll be posting more shortly.