This article was posted on Sunday, 27th August 2017
It has been a busy summer, and my YouTube experiment had to be put on hiatus. Ironically I'm working on a huge building project that I'm not documenting. I'm not a builder or tradesman so I make stuff in the evenings. I also have two kids. I'm also permanently tired.
Anyway, self-pity aside, I only realised tonight that I didn't post for the third and fourth video on this website, so I will do a quick couple of posts shortly.
I have all my tools at another secret location so I'm trying to get some work done in my workshop to improve it- insulation, electrical, internal walls etcetera. I might do a quick video showing the workshop as it is, as of today. I also got a new camera and I haven't had a chance to test it, so I might kill many birds with one stone.
This article was posted on Friday, 24th March 2017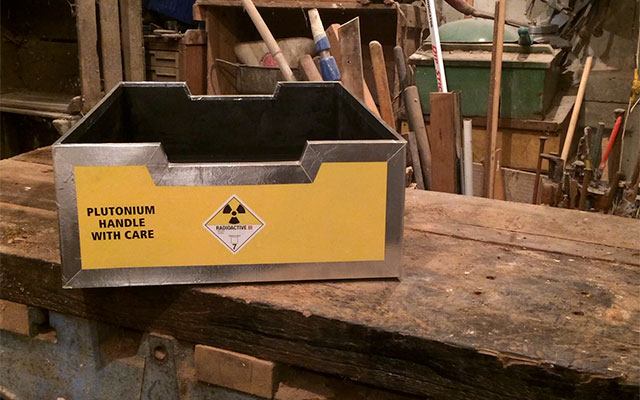 As with all my projects at the moment, I'm making stuff that I need and posting it to YouTube. It's good motivation to finish the projects fully.
I have several items in my home office that have large footprints- for example I have a lightbox that is one about 20mm thick but is 400mm x 600mm. I had a gap under my desk, so I decided to make a storage box on wheels for longer-term storage.
Now I do like to paint-and-decal stuff and I had an idea for this box in mind, and I purchased yellow spray paint as a highlight colour, but I changed my mind last minute and decided to make it have a passing resemblance to the Plutonium storage case in Back to the Future. It always made me laugh, the flippancy of 'Plutonium Handle with Care'.
Notes on the project-
I made the mistake of skipping a second coat of the undercoat and this showed up really badly on the yellow. I made a notation in the video about one million coats later and that number isn't far off. I don't think the 'Painter's Touch' spray paint was too good either, but it's readily available locally. I think I need to have a look for alternative spray paints for future projects.
The Aluminium tape is real duct tape which I dulled down with some steel wool. It's not going to last particularly well with heavy use, but I don't foresee any heavy use with that box. I haven't gone near it since I filled it up.
This article was posted on Tuesday, 7th March 2017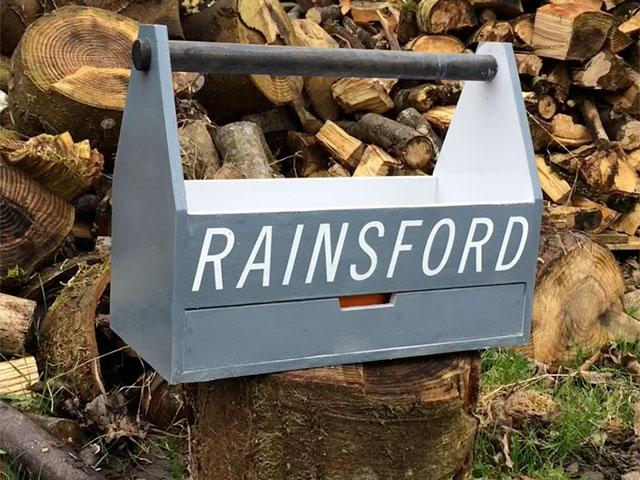 I had a need for a means to cart my tools and other stuff around my garden. I was using an orange B&Q bucket to lug my drill, driver, boxes of screws and anything else I needed, which was far from ideal. I have tool bags and tool boxes but I wanted a tool tote that would remain empty and ready to be filled, depending on the job.
One other feature, or necessity, was that there was a drawer or tray that would let me put shallow objects, like my screw boxes or small tools, separate from the larger tools. I didn't want latches or anything that wuld break or catch, so I turned to magnets.
The more I thought about the idea, the more I thought it would work and it would work well. Being a huge fan of maker videos on YouTube, I decided to record the whole process and make a short video of the making process. The side-effect of making a video is you put extra effort in to the process- my tool tote ended up with a paint job and then I went and stencilled it up. It's a slippery slope. Check out the video-
Notes on the project-
The tool tote works great but is a little bit heavy. I used 12mm plywood for strength and if I was to make another I'd use 12mm again but I'd try reduce the volume of the tote.
I used rare-earth magnets with .8kg pull but it actully wasn't enough. I cut this out of the video for the sake of brevity, but the first time I tried the magnets they didn't hold the empty tray in place. So I prised them out of the bottom plate and put two magnets (stuck together with epoxy) in instead. As I had one .8kg pull magnet per corner in the tray and two .8kg pull magnet in each corner of the bottom plate of the tool tote, I couldn't recommend a specific rate of pull for magnets without doing some testing. Next time.
I used whatever paint I had handy, I think the dark grey was a €1.50 can of primer. Covered pretty well. I used boiled linseed oil on the handle, which was screwed in to place so I can replace it when I break it.
Notes on the video-
I shot it on my iPhone because that's what I have. I think the quality is ok, I used 1920 x 1080p. My workshop has about ten 100w incandescent bulbs which is why there is a yellow hue to everything.
I was going to do a voice over explaining the process but I don't have a decent mic or the time to do a script and record it. I really just wanted to get the video out, so it is what it is.
This article was posted on Thursday, 28th April 2016
I have been meaning to post here for a while, but when I saw that my last post was almost a year ago, I held off until today, so it's exactly a year since my last post.
It's been a busy year, I will have more to share soon. In the meantime, we've been in our new house over a year, so these are a few representative photos of the seasons.
This article was posted on Tuesday, 28th April 2015
After much debating, I purchased a 5.11 Rush 12 bag in June, 2014. It's been 10 months and I've used it through all the seasons, as my Every Day Carry bag.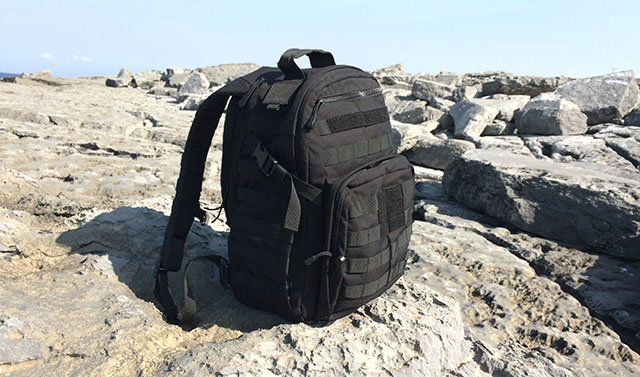 On an average day, I carry-
My 11" Macbook Air, in a sleeve
MBA charger and odd cables
An A5 folio case with my notebooks and work papers
A Maxpedition case with all the little odds and ends (pens, pencils, USB keys)
Leatherman Wave
Box of business cards
I store my laptop in the hydration pouch, which is located closest to my back, underneath the straps. It makes it easier to pull it in and out- while I take my charger out when I get to my office and plug it in, I tend to pull my laptop out at home and at external meetings, and it's easier to have it readily accessible in it's own section.
The bag looks deliciously black and tactical, and the quality is fantastic- sturdily built with tough zips and buckles. With the heavier nylon, it has some serious heft, which is a drawback, but I'll touch on that in a minute.
There is plenty of space in the bag, but in use, it definitely is more suited to carrying a full load of gear, not just a laptop and accoutrements. I took it to the Inis Oirr for a few days and it held enough clothes for four days (albeit t-shirts and shorts).
The main section of the bag opens up fully, allowing easy access to all of the gear within, while the admin pouch on the front makes it easy to get at all the little bits and pieces. I haven't used any MOLLE attachments yet, but with the summer looming, I might get some for additional gear or water bottles, handy to have the expandability.
The bag is heavy, even when empty. This is more a testament to the materials more than anything else, but I found, in use day-to-day, that the bag weighs more than the contents it held. I guess this is the price of water resistant nylon.
I am happy with the bag, if you need a good backpack, then I would recommend it wholeheartedly. The thing is, I'm not sure whether I need it for my day-to-day anymore. I've just finished moving house, further away from my office, so cycling isn't really an option- I'll be driving to and from work. This immediately negates the need for both a very-waterproof bag and a back pack. I could easily get away with a messenger-style bag.
Maybe I need to start looking around again...